CIU Partners on Refugee Initiatives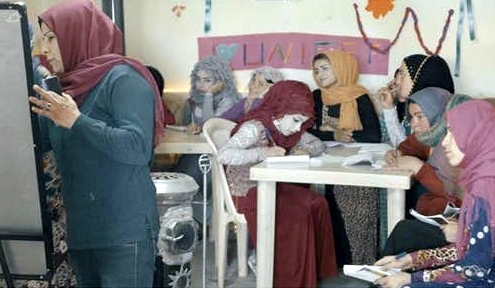 The CIU is once again co-sponsoring a conference on Global Initiatives in Refugee and Migrant Education. The upcoming international conference of the Refugee and Migrant EducationNetwork will take place at Manhattan College, New York, November 15-17, 2018. Keynote speakers from Iraq, the United States, Lebanon, the Holy See and other parts of the world will reflect with us on how to bring together universities and NGOs to provide education to, and about, migrants and refugees, and how to do research on vulnerable people on the move.
The conference will showcase best practices in teaching, research and social responsibility concerning refugee and migrant education. Ample opportunity will be provided to network and create synergies between persons and institutions engaged in this field.
Keynote speakers include:
Dr. Stephen Rasche, President of the Catholic University in Erbil, Iraq. As Iraq has been experiencing its own refugee crisis, Rasche has traveled internationally to advocate for his country and highlight the contributions his university and the Catholic community have made there.
Kevin Appleby, Senior Director of International Migration Policy at the Center for Migration Studies. He has also served as the director of migration policy and public affairs of the US Conference of Catholic Bishops for over 15 years. He has advocated in front of Congress regarding immigration issues.
Archbishop Bernardito Auza, Doctor in Theology and Permanent Representative of the Holy See to the United Nations since 2014. He was ordained a priest for the Diocese of Tagbilaran in 1985 and has been involved in the diplomatic service of the Holy See since 1990.
Ambassador Diego Gomez Pickering, Consul General of Mexico, Mexican diplomat and writer. Mexico's Ambassador to the United Kingdom from December 2013 to June 2016. During the conference he will be speaking of migration crisis.
Other featured speakers, who are scholars or NGO representatives working on the ground with refugees and migrants:
Prof. Michele Pistone, Professor of law at Villanova University
Fr Michael Smith, International education officer for Jesuit Refugee Service
Ashish Gadnis, Founder and CEO of BanQu
Dr. Mehnaz Afridi, Professor and director of religious studies at Manhattan College
Joan Rosenhauer, Executive director of the Jesuit Refugee Service in the USA
Dr. Georgette Bennett, Founder of the Multifaith Alliance for Syrian Refugees
Click here for more information or to register.
_________________________________________________________________________________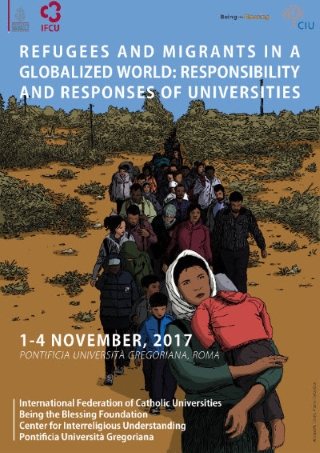 The CIU co-sponsored an international conference on the responsibility and responses of Universities to migrants and refugees in a globalized world. Housed at the Gregorian Pontifical University in Rome, the culmination of discussions on November 4th concluded with an audience with Pope Francis, attended by participants.
"Migrants and refugees are one of the major issues facing the human community today, and of the 65 million displaced human beings, half are children," said CIU board President Anthony J. Cernera, Ph.D., one of the coordinators of the conference at one of the opening sessions. Noting the driving need for such a forum, he explained, "It is an issue in which universities have a unique role to play of educating, of providing useful research, and exercising social responsibility."
The conference consisted of plenary sessions, round tables, panels, and a series of workshops with several objectives. The first was launching a fruitful dialogue among the academic world, "field representatives" and government agencies towards building a working network.
The second aim was to study various approaches to providing education and training for refugees living in settlement camps, as well educating students at universities about these global realities.
Third, the conference explored how universities could develop research projects and proposals to address the pressing research needs of the current crisis. And finally, organizers hoped to strengthen the global effort to access education, being mindful that higher education must be accompanied by other measures, including better knowledge of the migration issue.
CIU Director Rabbi Jack Bemporad commented, "The ravages of war, which have produced millions of asylum seekers, need to have numerous approaches to handle the problems they created. This conference shows that there are significant educational challenges, and it demonstrates what has been done and what has yet to be done in the future to help the refugees regain some semblance of normality."
Under the umbrella of the International Initiative for Migrant and Refugee Education (2IMRE), partners of this conference were the International Federation of Catholic Universities (IFCU), Being the Blessing Foundation, Pontifica Universita Gregoriana and the CIU.