Rabbi Bemporad & Pope John Paul II
"Pope John Paul II will be remembered by the world Jewish community as a courageous and transformational figure who did more than any pope in history to heal the wounds of the past and build bridges for the future between our two faiths. He was the first pope to visit the Great Synagogue in Rome. He issued the historic "We Remember" statement on the Holocaust. He established full diplomatic relations with the state of Israel. And during his pilgrimage to Israel in 2000, he asked forgiveness of the Jews for all past acts of anti-Judaism by the sons and daughters of the Church. For me, it's simply revolutionary. With his words and by his example, Pope John Paul II taught us that we must respect our religious differences while forging peaceful bonds based on our common humanity. For the Jewish people, Pope John Paul II leaves a legacy of hope."  - Rabbi Jack Bemporad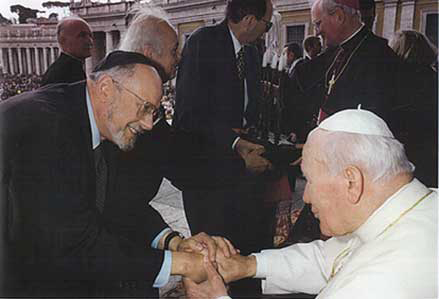 In 1959, as a newly ordained Reform rabbi, Bemporad joined with other community leaders in an audience with Pope John XXIII to discuss world hunger. When the pope, who was Italian, heard the name Bemporad, he asked if the rabbi had a relative who had been a partisan battling Mussolini and his Fascists. It was his uncle, Bemporad said, prompting John XXIII to invite Bemporad to meet with him in private. During their talk, the rabbi raised the issue of Rome's accountability for the rabid anti-Semitism that made it easier to carry out the Shoah.
The pope convinced Bemporad that he was both aware of the problem and seeking solutions. Shortly after that meeting, John XXIII instructed Augustin Cardinal Bea to draft a "Decree on the Jews" that led a few years later to the issuing of Nostre Aetate ("In Our Time"), which dramatically changed Catholic doctrine vis-à-vis the Jewish people.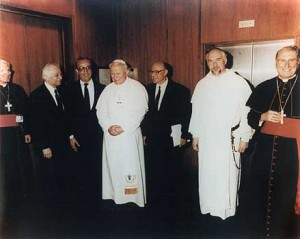 Bemporad would have numerous personal audiences with Pope John Paul II, including a 1990 celebration of the 25th Anniversary of Vatican II in which he gave an address on Christian-Jewish relations on behalf of the world Jewish community; during the Papal visit to Denver, Colorado, in 1993; a 40-minute private meeting at the Vatican in 1994 to discuss the new Catholic catechism's teachings on Jews and Judaism; and in 2000, when he presented the Holy See with a menorah in remembrance of the Jews who perished during the Holocaust.
In 1999, Rabbi Bemporad delivered an address at the Vatican's Conference on Interreligious Relations before 50,000 people at St. Peters, including Pope John Paul II, the Dalai Lama and religious leaders from throughout the world.
In January 2005, Bemporad joined more than 130 Jewish leaders, rabbis and cantors at the Vatican for the largest audience of Jewish leaders to meet with a seated Pope. Rabbi Bemporad and two other Rabbis offered a blessing of the Pope at the event, which recognized the Holy See's historic steps to improve relations between Catholics and Jews.
On April 26, 2018 Rabbi Bemporad spoke at the 40th Anniversary Commemoration of the election of John Paul II to the Papacy. His talk at this international event, hosted by the Polish Government, was entitled, "St. Pope John Paul II's Outreach to the Jewish Community." He was the only rabbi to present at this high-profile event, which was attended by the entire diplomatic Corps of Rome, scholars, and of course, the senior officials of the Vatican.
Rabbi Bemporad: "John Paul II made great steps to improve the relationship with Jews."

Press:
Jews & Christians Still Have Much To Learn From Pope John Paul II (Huffington Post)
Rabbi Remembers Beatified Pope (The Jewish Standard)
Pope's Jewish Legacy (Jewish Journal)
Local Rabbi Honored In D.C. By 'Friends Of Pope John Paul II' (The Jewish Standard)
Praise As Pope John Paul Beatified At Vatican (The Jewish Chronicle)
Blessed Journey (People Magazine)
Pope John Paul II Remembered As Friend To Jews, Israel (United Jewish Communities)
Pope John Paul II Credited For Healing Catholic-Jewish Ties (JWeekly)
World Wonders And Awaits Decision (San Diego Union-Tribune)
The Jews And The Frail Pope (L'Osservatore Romano)
The Pope Of The Jews (Catholic Online)
Pope Warmly Received Jewish Leaders (Associated Press)
Rabbis From Around The World Thank Pope John Paul (Opus Dei)
Rabbis, Cantors Meet Pope, Thank Him For Efforts (Catholic News Service)
Pope Furthers Message Of Interfaith Understanding (Hartford Courant)